Love Finds You Under the Mistletoe by Irene Brand and Anita Higman:
Two Christmas stories - one historical, one contemporary - under one cover.

Love Finds You under the Mistletoe: An Appalachian Christmas

A promise to her dying sister compels Julia Mayfield to take her young nephew to Mistletoe, Kentucky, a tiny town tucked away in the Appalachian Mountains. Sparks fly when she meets David Armstrong, a World War II veteran like herself. Even as shadows from the past weave a dangerous web around Julia and David, will their love flourish like the mistletoe that blankets the nearby hills?

Love Finds You under the Mistletoe: Once Upon a Christmas Eve

Hollie Goodnight's store has just been voted best Christmas shop in America. All the new publicity draws flamboyant novelist Van Keaton to the cozy town of Noel, Missouri, demanding to write Hollie's story - a dramatic tale of misfortune and triumph. She is swept up in his world of beautiful words and fanciful interludes. . .until Owen Quigly, her lifelong best friend, launches a plan to win her back. Published by Summerside Press with a release date of 9/1/2010
Find out more on the web:
Irene Brand
Anita Higman
Summerside Press
I'm playing Saint Nick!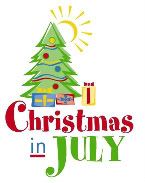 Make your list...and sign up here.