I'm playing Saint Nick...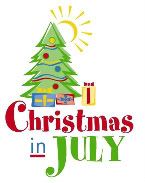 ...and today's the day!
I want to thank all the entrants into my Christmas in July contest for taking the time to stop by this month with their lists...and have I got a surprise for you all! God has just been really blessing my family this month and so I've decided to send a free book to each of you. Keep your eyes on your inboxes, as I'll be emailing each of you in request of mailing information.

Blessings...and happy reading!