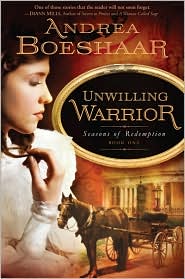 About Unwilling Warrior:
Valerie Fontaine is frightened. Her mother has passed and the War Between the States is raging. She braves the distance and leaves her finishing school in Virginia to be home with Daddy in New Orleans for Christmas.
Benjamin McCabe has a noble dream of photographing the Civil War--until his brother is lost during a battle. He has no idea his quest to find the missing brother will lead him into the enchanting presence of a New Orleans socialite.
And neither could have guessed how their lives would be forever changed.
My thoughts:
One of my favorite eras in history to read about is that of the US Civil War, so I eagerly accepted the offer to read this book. I was not disappointed in the least.

Andrea Boeshaar brings us a lovely historical tale full of characters you'll embrace from the moment you meet them, antagonists who will have you seething at the injustice they inflict, relationships that will bring redemption to hurts left festering too long, as well as romance that will please fanciers of that genre.

One element of this story I found quite compelling is the use of Psalm 55 as its theme. I read through Psalm 55 and Andrea Boeshaar should be commended for how well she weaves not so much the words of the psalm itself into the story, but the meaning behind the words.

I loved the ending of this book, even while wishing the story wouldn't end. Good news, though, as Uncertain Heart (book 2), will arrive in just a few short months. I know I'll be adding it to my bookshelf.
Review copy generously provided by Rebeca Seitz at Glass Road PR.
Find out more on the web:
Andrea Boeshaar
Glass Road PR