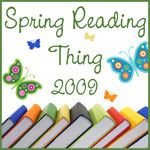 I've got my list together and am raring to go - will you join me? If you are interested in joining Spring Reading Thing 2009,
click here
and Katrina of
Callapidder Days
can fill you in on what to do.
How many books can I read by June 20th? I have really been out of it with my book reading so far this year so I think I will start with a VERY conservative list. Hopefully I'll get to all the books on my list and get to add some bonus books in the end! So without further delay...
Books sitting here on my shelf...
Turning the Paige by Laura Jensen WalkerDeceived by James Scott BellShe's in a Better Place by Angela HuntLast Mango in Texas by Ray BlackstonKiss by Ted Dekker and Erin HealyPicket Fence Promises by Kathryn Springer
Soon to be released...
The Secret by Beverly LewisSisterchicks in Wooden Shoes by Robin Jones GunnGhostwriter by Travis ThrasherPlain Pursuit by Beth WisemanNothing but Trouble by Susan May Warren
**I am almost finished with this one - should have it done before the day is out.
Bonus Books
My Son, John by Kathi Macias
The Bossy Bridegroom by Mary Connealy
Four Little Blessings by Merrillee Whren
The Cowboy Takes a Bride by Debra Clopton
Bundle of Joy by Robin Lee Hatcher
Age Before Beauty by Virginia Smith
Eight Little Faces by Kate Gosselin
The Convenient Groom by Denise Hunter
Shame by Greg Garrett
Play it Again, SAHM by Meredith Efken
Lost in Las Vegas by Melody Carlson
So Not Happening by Jenny B Jones
The Night Watchman by Mark Mynheir
Never the Bride by Cheryl McKay/Rene Gutteridge
Breaking Up is Hard to Do by Anne Dayton/May Vanderbilt
(*bold denotes book has been read*)