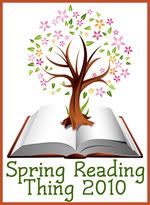 Well, another Spring Reading Thing has come and gone and here are my thoughts on the experience.
Did you finish reading all the books on your spring reading list? If not, why not?
Did you stick to your original goals or did you change your list as you went along?
Yes I finished my original list, as well as 10 more "bonus books".
What was your favorite book that you read this spring? Least favorite? Why?
No favorites...I really enjoyed most of the books on my list.
Did you discover a new author or genre this spring? Did you love them? Not love them?
New to me authors...Hillary Manton Lodge, Debbie Viguie, and Vicki Hinze. I enjoyed all of the books by new to me authors.
Did you learn something new because of Spring Reading Thing 2010 — something about reading, or yourself, or a topic you read about?
I didn't really learn anything new, but two topics that were prevalent in my reading were Amish themes and deafness. Three of the fiction books I read dealt with the issue of deafness, and I found them quite interesting since I have a deaf uncle and a profoundly deaf aunt, and my grandmother who passed away last year was also profoundly deaf.
What was your favorite thing about the challenge?
Seeing the selections on other people's lists and seeing if they accomplished their reading goals for the season. Also being able to say I finished my own list!
My Original ListOnce in a Blue Moon by Leanna Ellis
Forget Me Not by Vicki Hinze
Cool Beans by Erynn Mangum
The Anonymous Bride by Vickie McDonough
Dead Ringer by Sharon Dunn
A Case for Love by Kaye Dacus
Katy's New World by Kim Vogel Sawyer
Plain Jayne by Hillary Manton Lodge
A Cousin's Challenge by Wanda Brunstetter
The Telling by Beverly Lewis
Always Watching by Amberly & Brandilyn Collins
Last Breath by Amberly & Brandilyn Collins
The Lord is My Shepherd by Debbie Viguie
Beautiful by Cindy Martinusen-ColomaBonus BooksLove Will Keep Us Together by Anne Dayton & May Vanderbilt
Broken by Travis Thrasher
Her Last Chance by Terri Reed
The Pocket Guide to Amish Life by Mindy Starns Clark
Witness to Murder by Jill Elizabeth Nelson
Final Touch by Amberly & Brandilyn Collins
Predator by Terri Blackstock
A Silent Fury by Lynette Eason
Katy's Debate by Kim Vogel Sawyer
Shadows on the River by Linda HallA big thank you to Katrina at Callapidder Days for being such a great hostess. Hope to see you all in the fall.