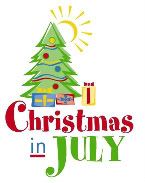 Guess what folks...it's Christmas in July here at My Buckling Bookshelf.

I love Christmas fiction and anxiously await the season's newest releases. With that in mind, I plan to preview at least one Christmas book a day this month, most of them being this years upcoming books, but I may throw in an oldie or two as the month progresses.

Another fun thing you won't want to miss...I'm playing Saint Nick!
On July 25th, I will draw four (4) names to win a free book...so get your name in the running (see below).
I'll link back to this post on each day's post, and here's what you need to know:

1. You need to have a US postal code.

2. Leave contact information - I can't contact you without it. Please use "you at yoohoo dot com" format if you would, please.

3. Include a 'wish list' of three (3) Christian Fiction books released so far this year (January 2010-July 2010 only, please) and if you are one of the 4 names drawn, I will choose one (1) of the books off of your wish list to send to you as a Christmas in July gift.


A SAMPLE COMMENT TO ENTER THIS CONTEST

My wish list includes:
1. Book A by Author Z
2. Book B by Author Y
3. Book C by Author X

eviesmommo at yahoo dot com



**One entry per person please
**Contest ends at midnight July 24th, 2010
**Jenny at MBB is the final authority in regards to this contest