I've spent the greater part of this month spotlighting upcoming books for the Christmas season. Starting today, I will be looking back at some favorite Christmas books I've read or reviewed in past years. Enjoy!
Engaging Father Christmas by Robin Jones Gunn:
Miranda Carson can't wait to return to England for Christmas and to be with her boyfriend, Ian. She has spent a lifetime yearning for a place to call home, and she's sure Carlton Heath will be it, especially when a hinted-at engagement ring slips into the conversation.

But Miranda's high hopes for a jolly Christmas with the small circle of people she has come to love are toppled when Ian's father is hospitalized and the matriarch of the Whitcombe family withholds her blessing from Miranda. Questions run rampant in Miranda's mind about whether she really belongs in this cheery corner of the world. Then, when her true identity threatens all her relationships in unanticipated ways, Miranda is certain all is lost.

And yet...maybe Father Christmas has special gifts in store for her after all.Published by FaithWords in 2008
Find out more on the web:
Robin Jones Gunn
FaithWords Publishing
My review:
I could hardly wait to get a hold of this book ever since I finished the first book, Finding Father Christmas. You can't help but love the characters in this book, from the endearing Miranda completing her search for family and home; her new found niece and nephew, the fun-loving Julia and the insightful Mark; to Ian as a Father Christmas who is nothing if not MacDreamy! So as Christmas nears, find yourself a nice cozy spot next to the fire, with a cup of tea, and take a journey with Miranda and Ian to Carlton Heath, or as Miranda would say - home!
I'm playing Saint Nick!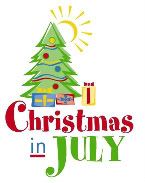 Make your list...and sign up here.