The Joy of Christmas by Melody Carlson:
This 3-in-1 compilation includes:

An Irish Christmas: For Colleen, life is spinning out of control. She just lost her husband, and her relationship with her young adult son Jamie is crumbling. Should she confess to him the secret that has been haunting her for twenty years? Jamie has a few secrets of his own. When he announces his plans to join the military, Colleen decides it's time for the two of them to take a trip together--to Ireland. The truth they discover there could fulfill both their dreams in a way neither ever thought possible. An Irish Christmas is a captivating story of love, deception, and secret passions, from popular and prolific author Melody Carlson.

The Christmas Dog: Betty Kowalski isn't looking forward to the holidays. She just can't seem to find Christmas in her heart. There's church, of course. But who can she bake for these days? And who would care whether or not she pulled out the Christmas decorations? Her new neighbor just adds to the problem. He's doing home improvements that don't appear to be improving much of anything. These days when Betty looks out the window, she sees a beat-up truck, a pile of junk, lots of blue tarps, and--horror of horrors--an old pink toilet. But when a mangy dog appears at her doorstep, the stage is set for Betty to learn a very important lesson about what Christmas is all about. This contemporary Christmas story is a timely yet gentle reminder that God can work miracles through something as seemingly insignificant as a little brown dog.

All I Have to Give: Anna and Michael have been trying for years without success to have a baby. Now in her late thirties, Anna has given up on the hope of motherhood after heartbreaking miscarriages and shattered dreams. As Christmas nears, she has to consider the possibility that it might be time to empty out the nursery and convert it to a guest room. Amidst her heartache, Anna secretly struggles with strange health problems that have her very worried. But, as often happens at Christmastime, there are miracles in store for Anna and Michael. As each tries to give the other the perfect Christmas gift the magic of Christmas is working its way into their lives. And what each of them unwraps for Christmas will surprise everyone.
Published by Revell with a release date of 10/1/2010
Find out more on the web:
Melody Carlson
Revell Books
I'm playing Saint Nick!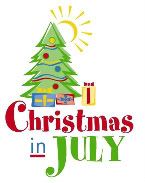 Make your list...and sign up here.