An Amish Christmas: Expanded Edition by Beth Wiseman, Kathleen Fuller, Barbara Cameron, and Kelly Long:
Enjoy this Amish Christmas bestseller with an additional novella from Amish romance author Kelly Long.

A Choice To Forgive by Beth Wiseman.
After Daniel disappeared that long-ago Christmas Eve, Lydia built a life with his brother. But now she's a widow and Daniel has reappeared, asking for forgiveness. But can she go back to her normal life with her long-lost love as her neighbor?

A Miracle for Miriam by Kathleen Fuller.
Seth is no longer the arrogant young man who shattered Miriam's confidence and broke her heart. But can he convince "plain" Miriam that she is truly beautiful to him?

One Child by Barbara Cameron.
The birth of one child forever changed the world two thousand years ago. On a snowy Christmas night in Lancaster County, another child changes the world for two very different couples.

Christmas Cradles by Kelly Long.
When Anna Stolis takes over for her aunt, the local Amish midwife in Paradise, Christmas night heats up with multiple deliveries, three strangers' quilts, and the help from resourceful and strong Asa Lapp, whose job it is to get Anna through a dangerous blizzard to complete her midwifery rounds.Published by Thomas Nelson with a release date of 8/31/2010
Find out more on the web:
Beth Wiseman
Kathleen Fuller
Barbara Cameron
Kelly Long
Thomas Nelson Publishing
I'm playing Saint Nick!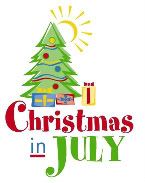 Make your list...and sign up here.