A Door County Christmas by Becky Melby, Eileen Key, Rachael Phillips, and Cynthia Ruchti:
Peer behind the closed doors of a Wisconsin tourist town gone dormant for the winter season. Watch as the drama and romance start to heat up—just as Lola the florist promised her four single friends a year ago when she gifted them with her prayers and a Christmas cactus. Will each woman find love—along with cactus blooms—as promised?

Novellas included are:

Christmas Crazy by Becky Melby
My Heart Still Beats by Eileen Key
Ride with Me into Christmas by Rachael Phillips
The Heart's Harbor by Cynthia RuchtiPublished by Barbour Books with a release date of 9/1/2010
Find out more on the web:
Becky Melby
Eileen Key
Rachael Phillips
Cynthia Ruchti
Barbour Books
I'm playing Saint Nick!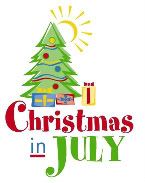 Make your list...and sign up here.