Carol: A Story for Christmas by Bob Hartman:
Jack O'Malley hates shopping, snow, and even Christmas. All three at once is Jack's idea of a very bad day. Storming into a Starbucks seeking escape, Jack runs smack into a beautiful and mysterious stranger, almost knocking her over and unintentionally changing his life forever. In this one moment his entire life—who he once was, who he is, and who he has the potential to become—flashes before his eyes.

In this humorous rendering of Charles Dickens' classic tale, timeless lessons are reexamined through the lens of modern society. The result is funny, moving, and ultimately thought-provoking.Published by Lion UK with a release date of 8/1/2010
Find out more on the web:
Bob Hartman
Lion UK
I'm playing Saint Nick!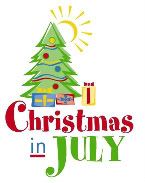 Make your list...and sign up here.