The Treasure of Christmas by Melody Carlson:
This 3-in-1 compilation includes:

The Christmas Bus: The people of Christmas Valley always celebrate Christmas to the fullest extent. The mayor plays Santa, every business is holiday themed, and there's a nativity for the kids each Christmas Eve. This town knows Christmas. But this year nothing goes according to plan. Shepherd's Inn is full of strangers, Mad Myrtle is causing problems, and a young couple with a baby due any minute rolls in to the middle of town in their Partridge Family-style bus. It's hardly the holiday Christmas Valley wanted--but it may be just what they need. This charming novella is sure to become a new Christmas tradition for readers who love a great holiday story.

Angels in the Snow: Looking for solace after losing her husband and young son, artist Claire Andrews flees to a cabin in the Cascade Mountains. Even there, she finds she is too distracted by her sorrow to continue painting. As Claire walks through the woods each day, she discovers two mysterious sets of footprints in the snow, an adult's and a child's. Is it her imagination? Where are they coming from? And how is it that the tracks are gently leading her to paint and to hope once again?

The Gift of Christmas Present: Christine grew up in an open, honest home---so she's unprepared when her mother's death is followed by a second shock: the news that she was adopted as an infant. Setting out to find her birth mother, she discovers a troubled biological family tree. Can she make peace with the past---and embrace the future?
Published by Revell with a release date of 10/1/2010
Find out more on the web:
Melody Carlson
Revell Books
I'm playing Saint Nick!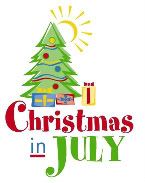 Make your list...and sign up here.