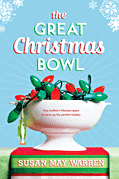 Who doesn't love a little Christmas in July? I really enjoy reading Christmas themed fiction no matter what time of year it is, so I thought I'd spotlight one here in the middle of a sweltering summer. I have enjoyed many of Susan May Warren's other fiction books and am really looking forward to this one.
About The Great Christmas Bowl:Marianne Wallace is focused on two things this holiday season: planning the greatest family Christmas ever and cheering on her youngest son's team in their bid for the state championship. Disaster strikes when the team loses their mascot—the Trout. Is it going too far to ask her to don the costume? So what if her husband has also volunteered her to organize the church Christmas tea. When football playoffs start ramping up, the Christmas tea starts falling apart. Then, one by one her children tell her they can't come home for Christmas. As life starts to unravel, will Marianne remember the true meaning of the holidays?
It releases in September and is published by Tyndale House.
Find out more on the web:
Susan May Warren
Tyndale House Publishers
"Waiting On' Wednesdays" is hosted by Jill over at
Breaking the Spine
. So join in - what are you Waiting On?