It's time once again for Faith 'n Fiction Saturday with
My Friend Amy
, and if you'd like to participate, feel free to check out her blog post with
this weeks question
.
We're at the halfway point in the year and we've read a bunch of great books (hopefully) so far. Today I'm going to ask you to do something very difficult...and pick your favorite!

The book you choose should be fiction, should be published for the Christian marketplace, and must have been published in 2009. Please tell us why it's your favorite and who else might enjoy it. If you reviewed it, feel free to include a link to your review
!
I've not read as many books as I planned to at this point in the year, but I've enjoyed many that I've read. I'll give you my top four (in no particular order), three which come from the male pov (two are suspense), and one romantic comedy, as well as the reviews I've given so far:
The Night Watchman by Mark Mynheir
If you're like me, I'm sure you've read plenty of books that left you wanting more - but with The Night Watchman, full of great characters, a multitude of plot twists, and suspense that comes at you at a steady pace, I closed the back cover totally satisfied (although it does have me curious to see what happens with Ray Quinn in the next book). This is probably one of the best books I've read all year. If you're a fan of crime drama and suspense, then you need to read this book.
Shame by Greg Garrett
With a plot that could be the real life story of someone you know, maybe even yourself, this book is riveting with its stark portrayal of one mans struggle with with regret and temptation. There are several storylines intertwined in this book, all compelling, and you can't help but empathize with almost every character in this book at some point. As John comes face to face with "what might have been" - will he choose his comfortable, if not complacent life, or will he trade it away to reclaim the life he wished he'd had. Great story, great characters, and with a backdrop of basketball (which I personally love), and even though it pushes the envelope a bit, this book scores big for me.
Never the Bride by Cheryl McKay and Rene Gutteridge
Never the Bride takes a serious subject, finding your life's partner, and turns it into an uproarious adventure as Jessie tries to shed her 'Always a Bridesmaid, Never a Bride' persona. A story that just goes to show you that when God shows up, you never know what will happen. You'll laugh, you'll cry, and you'll want to read this book again and again.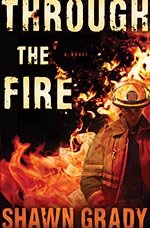 Through the Fire by Shawn Grady
I haven't written my review for this one yet, but this book was just fabulous. Lots of action, suspense, with a small dose of romance. Here's the description:
Firefighting burns in Aidan O'Neill's blood. The son of a fireman, O'Neill has a sixth sense about fire and often takes dangerous risks. When one act of disobedience nearly gets a rookie killed, O'Neill is suspended. His weeks off are supposed to be a time to reflect but instead he escapes to Mexico, where another rash act of bravery actually kills him. But only for a few minutes.
Called back to Reno, he's now haunted by visions of hell and paralyzed in the face of fire. And at the worst time, because an arsonist is targeting Reno. With a growing love interest with one of the investigators complicating everything, Aidan must discover where his trust rests as the fires creep ever closer.
Find out more on the web:
Rene Gutteridge
Cheryl McKay
Mark Mynheir
Shawn Grady