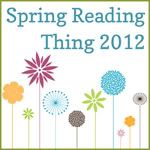 It's that time of year again...the arrival of spring. Does everyone know what that means? SPRING READING THING!

Katrina at Callapidder Days has got things all ready to go. If this is your first time (or you need a bit of a refresher) just head here for all the pertinent info. I'm looking forward to seeing everyone's lists...and hopefully not adding too many books to my already buckling bookshelf.

I've gotten my list categorized in hopes of making progress in a number of areas this time around. I set a goal for myself at the beginning of the year to read at least ten books a month. I'm a bit behind, but I'm hoping to catch up during SRT.

Review Books:

Stuart Brannon's Final Shot - Stephen Bly and family
Missing - Shelley Shepard Gray
The Chase - DiAnn Mills
Cooking the Books - Bonnie Calhoun
Always the Designer, Never the Bride - Sandra Bricker
The Fiddler - Beverly Lewis
Her Restless Heart - Barbara Cameron

Series Books: I'd like to read a series (or more) of books that have been waiting on my shelf...some waiting longer than others.

Mercy Hospital Series - Candace Calvert
Critical Care
Disaster Status
Code Triage

Harmony Series - Nancy Mehl
Simple Secrets
Simple Deceit
Simple Choices

Library Books:

The Half-Stitched Amish Knitting Club - Wanda Brunstetter
Relentless Pursuit - Kathy Herman
Theodore Boone: The Accused - John Grisham
The Discovery - Dan Walsh

Kindle Books:

Diagnosis Death - Richard Mabry
Medical Error - Richard Mabry

Young Adult Books:

The Wishing Pearl - Nicole O'Dell
Roadside Assistance - Amy Clipston
Wreath - Judy Christie

Random Books Off My Shelf:

Accused - Janice Cantore
Protection for Hire - Camy Tang
Red, White, and Blue - Laura Hayden
Ten Plagues - Mary Nealy
The Wedding Dress - Rachel Hauck
Southern Fried Sushi - Jennifer Rogers Spinola
Like Sweet Potato Pie - Jennifer Rogers Spinola
Always the Wedding Planner, Never the Bride - Sandra Bricker
The Key on the Quilt - Stephanie Grace Whitson

*BOLD titles means the book is read*
HAVE A GREAT SPRING
...AND HAPPY READING!