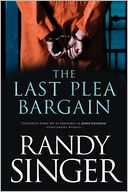 About The Last Plea Bargain:
Plea bargains may grease the rails of justice, but for Jamie Brock, prosecuting criminals is not about cutting deals. In her three years as assistant DA, she's never plea-bargained a case and vows she never will. But when a powerful defense attorney is indicted for murder and devises a way to bring the entire justice system to a screeching halt, Jamie finds herself at a crossroads. One by one, prisoners begin rejecting deals. Prosecutors are overwhelmed, and felons start walking free on technicalities. To break the logjam and convict her nemesis, Jamie must violate every principle that has guided her young career. But she has little choice. To convict the devil, sometimes you have to cut a deal with one of his demons.
My thoughts:
A murdered mother is the springboard to Jamie Brock's goal of becoming a prosecuter, and her experience compels her to be merciless in her pursuit of justice. The price must be paid for wrong-doing. But when that pursuit is clouded by the man convicted of killing her mother's still claiming his innocence, the killer's attorney being charged with the murder of his own wife, and a logjam in the courts caused by the defiance of the incarcerated to accept plea bargains, Jamie starts to waver in her belief in the justice system. Will she hold on to her long held convictions or will she be persuaded that sometimes justice and mercy must walk hand in hand to bring about vindication?
Randy Singer has once again penned a novel that dives deep into the legal system in ways many of us only read about in the papers. This story seamlessly ties an array of criminals, evidence, and unexpected allies into a story that will leave you spellbound at its startling and jaw-dropping conclusion. Definitely a must-read for any fan of legal thrillers.
About Randy Singer:
Randy Singer is a critically acclaimed author and veteran trial attorney. He has penned nine legal thrillers, including his award-winning debut novel "Directed Verdict." In addition to his law practice and writing, Randy serves as a teaching pastor for Trinity Church in Virginia Beach, Virginia. He calls it his "Jekyll and Hyde thing"--part lawyer, part pastor. He also teaches classes in advocacy and ethics at Regent Law School and serves on the school's Board of Visitors. He and his wife, Rhonda, live in Virginia Beach. They have two grown children. Visit his Web site at www.randysinger.net.
Please note:
My thanks to Tyndale House Publishers & Debbie Lykins/Side Door Communications for providing an Advanced Reader Copy of this book in exchange for my honest review.
Find out more on the web:
Tyndale House Publishers
Side Door Communications