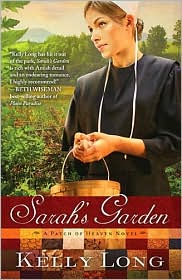 About Sarah's Garden:Quite by accident, Sarah King has fallen in love. But this love is forbidden, and could cost her everything she holds dear.

Tucked into the majesty of Pennsylvania's Allegheny Mountains is a garden Sarah King has been nurturing for years. She never feels more alive than when she is alone with her thoughts and her Creator among the delicate rows of plants. But then duty calls her away from her beloved garden and into a world she knows little about.

Grant Williams, a handsome young veterinarian, has left the city to open a rural practice among the Amish. Within minutes of meeting shy but feisty Sarah King, he is captivated by her.

As their feelings grow for one another, Sarah insists they can never be together. Marrying Grant would mean being uprooted from her home, her family, and her community. Throughout the cold Pennsylvania winter, with her garden tucked away until spring, Sarah begins crafting a quilt that illustrates her pain. Can anything lasting blossom from a love that's forbidden?My thoughts:

Kelly Long sows a beautiful tale in this first book in her A Patch of Heaven series, and although this is Kelly's debut novel, you would never know it. This has got to be one of the best written Amish novels I've ever read (and I've read quite a few). She has such a way with words, bringing you into the scene with her captivating descriptions and compelling story line. She includes both drama and a touch of humor in this book, and with a somewhat unexpected ending it was difficult to put down. I also think 'A Patch of Heaven' is the perfect name for this series, as I can see it relating to both the gardening and quilting aspect of the story.

Her characters of Sarah King and Grant Williams are likeable and quite easy to relate to, and there are plenty of endearing (and not so endearing) secondary characters as well. One of those characters who really stuck out to me was Grossmudder King...she reminded me a lot of my own grandmother!

If you have a fondness for Amish novels, don't miss Sarah's Garden...and be on the lookout for Lilly's Wedding Quilt, Kelly's second book in this series, due out in March 2011. I know it's already on my wish list.
Find out more on the web:
Lilly's Wedding Quilt - Book 2
Thomas Nelson Publishing