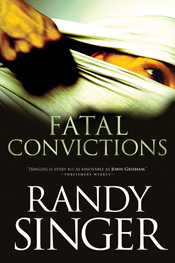 About Fatal Convictions:Alexander Madison is part lawyer, part pastor, and part con artist. When a Muslim imam is accused of instigating honor killings, Alex must decide whether to take the case that every other lawyer in town is running away from. He doesn't realize until it's too late that defending the imam may cost him the one thing in life he cares about most. Fatal Convictions is the story of a lawyer willing to risk it all and the women who must choose between faith and love.
About Randy Singer:
Randy Singer is a critically-acclaimed author and veteran trial lawyer. He has authored nine legal thrillers and one novella, including the 2003 Christy Award-winning Directed Verdict. In addition to serving as managing partner of the Singer Legal Group, and his writing, Randy serves as a teaching pastor for Trinity Church in Virginia Beach, VA, and is a professor at Regent University School of Law.My thoughts:

Randy Singer has done it again...he's given readers a book that will both challenge their minds and their hearts.

Randy does a masterful job in detailing the overwhelming legal proceedings surrounding this case in a way that you'll feel as if you're in that jury box yourself. It will have you weighing every bit of evidence that Randy throws out at you and you'll find yourself wavering between guilt and innocence amidst the courtroom drama. Randy also provides plenty of explosive twists that will both amaze and appall and have you turning pages at record speed.

Another thing that I liked about this book is that it will have you searching your heart for any prejudices toward persons of another faith. There are people on the fringe in every religion and more often than not, the prejudices that become ingrained in each of us are determined by those outside the norm. I know I felt some of those prejudices myself when I first started reading this book, but I think the part of the book that really spoke to my heart about those prejudices was when character Alex Madison is preaching to his congregation from John 8, using the story of the woman caught in adultery. This part of the Alex's message really stood out..."But even if you want to assume that this man is guilty, does that mean I shouldn't represent him? Did Christ make you prove your innocence before he died for your sins? If this story about the woman caught in adultery stands for anything, it stands for the proposition that we are never more like Jesus than when we're defending those persons who have been rejected by everyone else." Quite convicting and definitely words to take to heart.

I think this is one of Randy's most compelling books so far and I can't wait to see what he comes up with next. Review copy generously provided by Debbie Lykins at Side Door Communications.
Find out more on the web:
Randy Singer
Side Door Communications
Tyndale House Publishers