Another year has come and gone and while I didn't read an enormous number of books as I have in years past, I did have a few that really stood out. I've listed them below (in no particular order), along with my thoughts on each book. I appreciate all who have stopped by My Buckling Bookshelf over the past year, and I'm wishing you all a fabulous 2010. Happy reading!
Gone To Green by Judy Christie
I really enjoyed this book. Lois Barker is such a great character - she's tough and can hold her own, but you can still see the vulnerability in her. I really enjoyed Lois' interaction with each of the minor characters in the book - and there are some doozies. The pace of the story was superb - like newspaper staff working tirelessy in its efforts to put the paper to bed.

Another thing about Gone to Green that I thought stood out is the dialogue between Pastor Jean and Lois in Chapter 15. There was such a natural progression in the conversation concerning Lois's decision of whether or not to sell the paper and leave Green, that although Scripture is used, it didn't feel 'preachy'. Pastor Jean's instructions of letting the Peace of God guide a person's decisions in life are words all of us - not just Lois - need to hear.

I've already decided that this book is to be counted among the best books I've read this year, and I'm definitely looking forward to the rest of the series - Goodness Gracious Green will be released in Fall 2010 and Green Through and Through in Fall 2011.
The Night Watchman by Mark MynheirIf you're like me, I'm sure you've read plenty of books that left you wanting more - but with The Night Watchman, full of great characters, a multitude of plot twists, and suspense that comes at you at a steady pace, I closed the back cover totally satisfied (although it does have me curious to see what happens with Ray Quinn in the next book). This is probably one of the best books I've read all year. If you're a fan of crime drama and suspense, then you need to read this book.

Shame by Greg Garrett
With a plot that could be the real life story of someone you know, maybe even yourself, this book is riveting with its stark portrayal of one mans struggle with with regret and temptation. There are several storylines intertwined in this book, all compelling, and you can't help but empathize with almost every character in this book at some point. As John comes face to face with "what might have been" - will he choose his comfortable, if not complacent life, or will he trade it away to reclaim the life he wished he'd had. Great story, great characters, and with a backdrop of basketball (which I personally love), and even though it pushes the envelope a bit, this book scores big for me.

Never the Bride by Cheryl McKay and Rene Gutteridge
Never the Bride takes a serious subject, finding your life's partner, and turns it into an uproarious adventure as Jessie tries to shed her 'Always a Bridesmaid, Never a Bride' persona. A story that just goes to show you that when God shows up, you never know what will happen. You'll laugh, you'll cry, and you'll want to read this book again and again.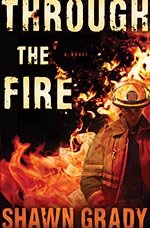 Through the Fire by Shawn Grady
With descriptions so real my fingers were warm from turning the pages, Shawn Grady's debut novel Through the Fire mesmerized me from the very first page. He combines a powerful mix of action and intrigue, real to life scenarios, amazing description, with a small dose of romance, which kept me fully involved to the very last page. This has been one of the best books I've read so far this year, and I can see why Shawn was voted 'Most Promising New Writer' at Mount Hermon...you'd never guess that this is his first novel. I'm looking forward to see what he has in store for his readers next.
The Sheriff's Surrender
by Susan Page Davis
I really, really, REALLY liked this book. I'm counting this as one of my favorite books of 2009. If you like historical fiction with a light touch of mystery, humor, and romance, then this is a book you need to read.

Gert Dooley, spunky gal that she is, also shows us a tender side of herself as she, along with proprietess Libby Adams, and newly arrived minister's wife, Apphia Benton, befriend ladies from all reaches of society. Under Gert's tutelage, the group becomes the Ladies' Shooting Club, who do their best to help rookie sheriff Ethan Chapman maintain law and order and sniff out crime in Fergus, Idaho.

There were parts of this book that made me laugh and parts that made me tear up. And while I did figure out who the villian was about halfway through, instead of skipping to the end to find out if my assumptions were true (or to see what the motive was), The Sheriff's Surrender was so engaging I didn't skip a page.

Another part of this book I enjoyed was the connection that Gert had with her brother Hiram, and how that connection made them able to communicate on a whole different level. I can't wait to get a hold of The Gunsmith's Gallantry (due out June 2010), because I know with the introduction to Hiram in this book, his story will be just as good as Gert's.
Find out more on the web:
Judy Christie
Rene Gutteridge
Cheryl McKay
Mark Mynheir
Shawn Grady
Susan Page Davis