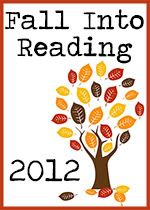 It's hard to believe that fall has come and gone and Fall into Reading 2012 has come to a close. I had high expectations of myself with my list this time and my goal to finish reading 120 books this year. I did fairly well on both and still have about 9 books to meet my yearly goal.
I'm a bit of a political junkie and keeping up with the election slowed down my progress somewhat between late September and the first week of November. I did pick up some steam throughout the rest of November, although all the December activities with my school-aged girls tied me up for most of this month.
I opted to read a few more books with my girls rather than finish my own list, and that's okay, since I know my girls enjoy reading as much as me.
I did find a couple of books that I thought were really enjoyable on my list from a couple of new authors. Accidentally Amish by Olivia Newport and Mother of Pearl by Kellie Coates-Gilbert were both really good. Brandilyn Collins' Double Blind and Bill O'Reilly's Killing Kennedy were so enthralling I read each of them in one day. I would have loved to have gotten through all of my books, but I guess not doing so just guarantees some extra reading over these next chilly months.
Here's my FIR wrap up:
Books to read on my own
- I had 35 on my original list. I finished these 21 from my original list, plus 2 extras.
A Season for Tending - Cindy Woodsmall

Mother of Pearl - Kellie Coates-Gilbert
Accidentally Amish - Olivia Newport

Beyond the Storm - Carolyn Zane
The Yellow Packard - Ace Collins
Double Blind - Brandilyn Collins
The Heart's Journey - Barbara Cameron

The Bridesmaid - Beverly Lewis

Queen of the Waves - Janice Thompson
Full Disclosure - Dee Henderson
Abducted - Janice Cantore
Trauma Plan - Candace Calvert

*Escapement - Rene Gutteridge
*Teardrop - Travis Thrasher
*Rearview - Mike Dellosso

#Love Finds You at Home for Christmas - Annalisa Daughety & Gwen Ford Faulkenberry
#The Hope of Christmas - Jack Countryman
#A Wreath of Snow - Liz Curtis Higgs
#Prayers of a Stranger - Davis Bunn
#The Christmas Pony - Melody Carlson
#The Little Amish Matchmaker - Linda Byler
Extras:
Killing Kennedy - Bill O'Reilly
A Wild Goose Chase Christmas - Jennife AlLee
(* - 7 Hours Series)
(# - Christmas)
Books to read with my 6th Grader
- I had 7 on my original list. We finished 6 plus 5 extras.
Flutter - Erin E Moulton
The Unwanteds - Lisa McMann
Vanished - Sheela Chari
What a Pair! - Wanda Brunstetter
Mister Ray - Adam Perry
Darwen Arkwright and the Peregrine Pact - A J Hartley

Extras:
Sparrow Road - Sheila O'Connor
Beyond Lucky - Sarah Aronson
R My Name is Rachel - Patricia Reilly Giff
The Cheshire Cheese Cat - Carmen Agra Reedy/Randall Wright
The Underdogs - Mike Lupica
Books to read with my 1st Grader
- I read my original 5 plus 3 extras.
Miss Fox's Class Shapes Up - Eileen Spinelli
Mary and Her Little Lamb - Will Moses
Princess Kim and Too Much Truth - Maryann Cocca-Leffler
Too Shy for Show and Tell - Beth Bracken
Wiener Wolf - Jeff Crosby

Extras:
Bugtown Boogie - Warren Hanson
Cock A Doodle Dance! - Christine Tricarico
Mission: Addition - Loren Leedy
I hope the rest of you Fall into Reading participants did well with your lists, and I'd love to hear recommendations from your list in the comments below. Hope you all have a wonderful winter and a blessed CHRISTmas! See you in the spring...