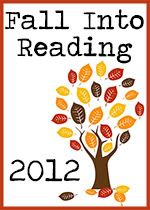 It's that time of year again...when we break out sweaters, start raking leaves, and snuggle in the bleachers at a local football game. But alas, let us not forget something we can do in the coziness of our favorite chair with a warm beverage by our side. Raise your hand if you're more than ready to
Fall into Reading
!
Set some goals, get a list together, and join in with host Katrina at
Callapidder Days
, myself, and many others who are looking to spend some time this fall season with our noses in a book. It all starts on September 22 and I'd love to see you join in. You can find all the pertinent info about the challenge
here
.
I've got a few books by new authors (or new to me) on my list, as well as a few Christmas books. I'm still trying to keep pace with my 120 book goal this year and still need to read 42 books, so I'm hoping having a goal will help me reach it.

Books to read on my own:

A Season for Tending - Cindy Woodsmall
Sandwich with a Side of Romance - Krista Phillips
Road to Mercy - Kathy Harris
Mother of Pearl - Kellie Coates-Gilbert
Accidentally Amish - Olivia Newport
Still Life in Shadows - Alice Wisler
Against the Tide - Elizabeth Camden
Beyond the Storm - Carolyn Zane
The Yellow Packard - Ace Collins
Double Blind - Brandilyn Collins
The Heart's Journey - Barbara Cameron
Organized Grime - Christy Barritt
Death of the Couch Potato's Wife - Christy Barritt
The Bridesmaid - Beverly Lewis
Almost Amish - Kathryn Cushman
Violet Miracle - Christina Li
Queen of the Waves - Janice Thompson
Full Disclosure - Dee Henderson
Abducted - Janice Cantore
Trauma Plan - Candace Calvert
Starring Me - Krista McGee
With Every Letter - Sarah Sundin
*Escapement - Rene Gutteridge
*Teardrop - Travis Thrasher
*Rearview - Mike Dellosso
*Recollection - Tom Pawlik
*All of our Dreams - James Andrew Wilson
*Whole Pieces - Ronie Kendig
*The Last Night of Alton Webber - Robin Parrish
#Love Finds You at Home for Christmas - Annalisa Daughety & Gwen Ford Faulkenberry
#The Hope of Christmas - Jack Countryman
#A Wreath of Snow - Liz Curtis Higgs
#Prayers of a Stranger - Davis Bunn
#The Christmas Pony - Melody Carlson
#The Little Amish Matchmaker - Linda Byler

(* - 7 Hours Series)
(# - Christmas)

Books to read with my 6th Grader:

Flutter - Erin E Moulton
The Unwanteds - Lisa McMann
Vanished - Sheela Chari
What a Pair! - Wanda Brunstetter
Mister Ray - Adam Perry
Darwen Arkwright and the Peregrine Pact - A J Hartley
Wonder - RJ Palacio

Books to read with my 1st Grader:

Miss Fox's Class Shapes Up - Eileen Spinelli
Mary and Her Little Lamb - Will Moses
Princess Kim and Too Much Truth - Maryann Cocca-Leffler
Too Shy for Show and Tell - Beth Bracken
Wiener Wolf - Jeff Crosby
Happy Fall Y'all...and Happy Reading, too!

To see what others are reading during the challenge, go here.