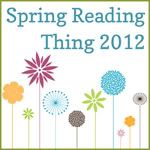 I had this grand plan to catch up on my book reading goal for the year (ten books a month) when I started SRT 2012 and in an effort to keep my head above water, I put 30 books on my list. I read a number of books on my original list and added a few others that I just couldn't pass up. Due to the busyness of school activities, reunions, and weddings, my time seemed to slip away much too quickly and I was only able to read 26 books. I hope you all fared much better than I did.
I enjoyed all of the books I read and here are my recommendations:
If
Suspense
thrills you, definitely read Critical Care, Medical Error, Relentless Pursuit, The Chase, and Cooking the Books.
If
Romantic Comedy
tickles your fancy, don't pass up Sandra Bricker's Always the Designer and Always the Wedding Planner.
Historical Fiction
that's worth your time: The Key on the Quilt and Love in Disguise (there's a bit of mystery and romance in this one), and if you like a bit of a western flair, definitely read Stuart Brannon's Final Shot.
If you think
Amish Fiction
is "wunderbar gut", then The Fiddler, Missing, and Her Restless Heart are for you.
For those of you who are young at heart, check out these
Young Adult
titles: The Wishing Pearl (High School Age) and Theodore Boone: The Accused (Middle Grade).
Books finished from original list:





Stuart Brannon's Final Shot - Stephen Bly and family
Missing - Shelley Shepard Gray
The Chase - DiAnn Mills
Cooking the Books - Bonnie Calhoun
Always the Designer, Never the Bride - Sandra Bricker
The Fiddler - Beverly Lewis
Her Restless Heart - Barbara Cameron
Critical Care - Candace Calvert
The Half-Stitched Amish Knitting Club - Wanda Brunstetter
Relentless Pursuit - Kathy Herman
Theodore Boone: The Accused - John Grisham
Medical Error - Richard Mabry
The Wishing Pearl - Nicole O'Dell
Accused - Janice Cantore
Red, White, and Blue - Laura Hayden
Always the Wedding Planner, Never the Bride - Sandra Bricker
The Key on the Quilt - Stephanie Grace Whitson





Bonus Books:





Titanic Trivia - David Downs/Ken Beck
Dispatches from a Bitter America - Todd Starnes
The Jerk Magnet - Melody Carlson
The Best Friend - Melody Carlson
Interrupted: Life Beyond Words - Rachel Coker
My Stubborn Heart - Becky Wade
Annie's Truth - Beth Shriver
Reckless Heart - Amy Clipston
Love in Disguise - Carol Cox
Have a great summer...see you all at Fall into Reading 2012!