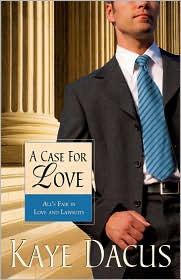 About A Case for Love:
TV society reporter Alaine Delacroix feels like David facing Goliath when she takes on the biggest corporation in town to keep them from putting her parents' garden center out of business. Lawyer Forbes Guidry wants nothing more than to stand up for the endangered local-business owners—but it will mean risking his job and crossing his powerful parents. Can Alaine and Forbes make A Case for Love?
My thoughts:
I fairly swooned over Forbes Guidry from the moment I met him in Stand-In Groom, Kaye's first book in this series, so I was more than thrilled to find out he'd get a book of his own! He's handsome, loyal, charming...*sigh*
Friction and chemistry abound between Alaine and Forbes in both their personal and professional interactions which definitely send sparks to flying, but will a contentious lawsuit that tests the family loyalty of both Alaine and Forbes cause their blooming relationship to blow up? You'll definitely want to pick up this book to find out.
I loved how both Alaine and Forbes use a dating service to "meet", and their dating service encounter is quite entertaining. I enjoyed getting to know Shon, the owner of the dating service, as well, and I think he would make a great character for a book of his own.
Review copy generously provided by Barbour Publishing.
Find out more on the web:
Kaye Dacus
Barbour Publishing