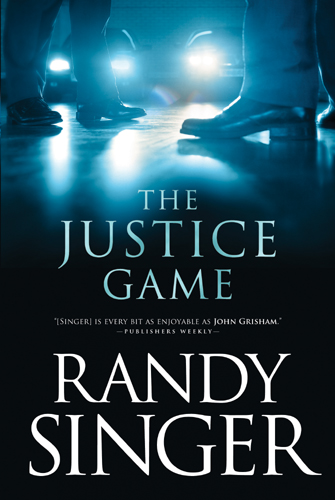 About The Justice Game:
After the target of an investigative report storms a Virginia Beach news studio, he executes one of the anchors on live television before the SWAT team is able to take him down. Following the victim's funeral, her family files a lawsuit against the gun company who manufactured the killer's weapon of choice.
The lawyers for the plaintiff and defendant—Kelly Starling and Jason Noble—are young, charismatic, and highly successful. They're also easy blackmail targets, each harboring a personal secret so devastating it could destroy their careers.
Millions of dollars—and more than a few lives—are at stake. But as Kelly and Jason battle each other, they discover that the real fight is with unseen forces intent on controlling them both
My thoughts:
Randy Singer is always good for gripping legal suspense and The Justice Game is no exception. Gun control, shadow juries, blackmail...lots of behind the scenes happenings that will keep you turning pages. I had at least four people pegged for the blackmailer...and each one was wrong...and my being wrong makes this book just right. Randy is certainly at the top of his game in this one, as I think this is one of the best legal thrillers I've read in quite some time. Review copy generously provided by Debbie Lykins at Side Door Communications.
Find out more on the web:
Randy Singer
Side Door Communications